Eva Perrigo, CTC
USA

·

Wyoming
3590 Southpark Dr., Jackson WY, 83001
Details
Private One-on-One, Day Training, and Group Classes using scientific, evidence based training without the use of pain fear or intimidation.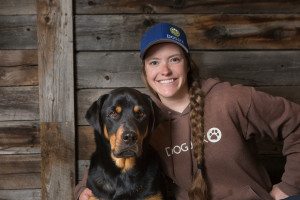 Eva Perrigo, CTC
Eva Perrigo is a Certified Dog Trainer and Behavior Counselor. She started her work with dogs at the Santa Fe Animal Shelter assisting the Behavior Department with Behavior Modification for "unadoptable" dogs. Eva then transitioned to Pet Dog Training. She is an Honors Graduate of The Academy for Dog Trainers and a Certified AKC Canine Good Citizen Evaluator. She uses scientific, evidence based training and does not employ the use of pain, fear or intimidation. Her training helps owners learn to communicate more clearly and effectively with their canine companions, which in turn enhances and develops the dog and human bond into one of love, trust and fun. Whether you need help with basic obedience, manners, socialization, problem behaviors, or have a dog presenting fear and/or agression, Eva can help!
Consultations are always FREE! Consultations allow you to sit down and discover your training desires and come up with a plan on how best to achieve them, whether through private sessions, day training or group lessons. Private lessons offer one-on-one training – typically in your home or off-site. These target specific behavior needs and help you and your pup progress quickly and successfully. Day training consists of our trainer Eva coming to your home and working with your dog alone. This is a great option for those whose lifestyle does not permit the time necessary for private or group classes. Group lessons offer training for dogs and owners that need general pet information, tips, and tools for achieving basic manners and beyond. Training classes are also a great way to not only socialize your dog, but to continue their education on how to be a well behaved pooch!
---
Key Info
3590 Southpark Dr., Jackson, WY 83001
Features
Products
Location: USA, Wyoming
Contact Eva Perrigo, CTC